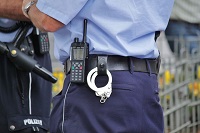 Visiting a close friend or a loved one who is serving a prison sentence can be a great boost to morale and a way to keep pushing on through this hard time. To assist you in visiting your loved ones, we have compiled some general guidelines on visiting Georgia detention and jail facilities. However, it is wise to contact the facility you will visit to learn about their specific visitation process.
Visitation Days, Dress, and Who Can Visit
Visitation typically occurs on Saturdays, Sundays, and holidays. Some facilities split visitation days by their inmates' last names.
Clothing for men and women must cover the shoulders and chest completely. Pants must be worn. For women, dresses and skirts may not be more than 2 inches above the knee. No see-through or mesh material, no offensive logos or writing, or suggestive or revealing clothing.
Family members and special relationship visitors are allowed to visit if they are approved to be on the inmate's approved visitation list. The only items allowed in visitation are $20 for vending machines, baby formula and store-bought supplies, car keys, identification card, and other items identified by the facility. All visitors and all items will be searched.
If your loved one is being held in a facility before their trial in court, call our professionals at (706) 353-6467 or 1-800-660-6467 to post bail on their behalf! We are Georgia's top bail bondsmen.