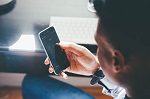 Earlier this year, Bud and June Runion of Atlanta were killed after responding to a Craigslist ad in McRae, Georgia. Their attacker claimed to have a vintage 1966 Mustang that the Runions were interested in purchasing. Upon investigation, the attacker in fact had no such vehicle and intended to rob the Runions, and the attacker is now facing armed robbery and murder charges.
Unfortunately, the dangers of e-commerce are a genuine threat in today's society. Credit card and identity theft run rampant on the internet, so many folks turn to transactions by cash and check that inherently carry risks of their own.
Protect Yourself During In-Person Transactions
Craigslist has offered many helpful guides to reduce the chance you will be a victim of a crime when making a transaction from an ad online. Some top tips include:
When possible, try to make transactions in person, and avoid buying items you haven't seen. This will help you avoid paying for an item or housing that doesn't exist.
Never wire money – the person on the other end is likely a scammer.
Meet only in a well-lit public place. Never make transactions in someone's home or allow them into yours.
Always bring a friend along and tell another person where you are going. Provide the information of the person you are meeting if possible.
If you or someone you know is being held while awaiting trial for internet scamming or other charges, call (706) 353-6467 for fast bail today! We take all types of cases for all sizes of bail.