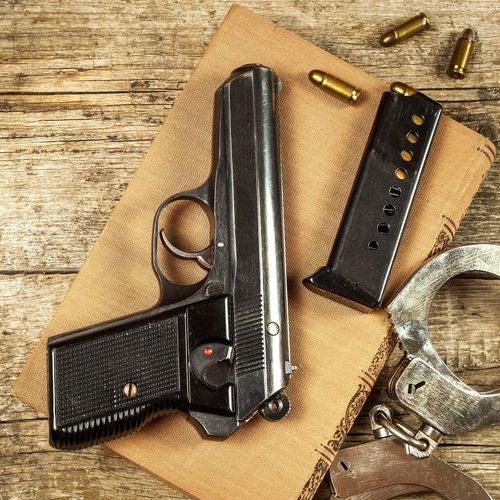 Weapons Violation Bail
GA's Article I, Section I of the state constitution protects and upholds the right to bear arms as spelled out in the U.S. Bill of Rights. However, firearm laws are in place in order to regulate the sale and safety of guns for the sake of Georgia citizens. If you find yourself charged with a weapon or firearm violation, reach out to your local bondsmen at Double "O" Bonding. We provide weapons violation bail in Jefferson, GA and many surrounding counties. We're licensed professionals with expertise in making bail fast. Remember, we're here to help you and your loved ones along. We don't want you spending any more extra time in jail than can be helped. So come on down, or call us at 706-353-6467 and our agents can begin on your case.
What Constitutes a Weapons Violation?
While there is no waiting period to purchase a firearm in Georgia, there is a required waiting period of 60 days before receiving a license to carry a handgun.
In the state of Georgia, you can be charged with a weapons violation if:
you have in your possession without a specific license or registration a sawed-off shotgun or rifle, machine gun, hand grenade, recoilless rifle, mortar, or silencer
you are in possession of any firearm without a license
you are in possession of a firearm under the age of 18 years old (unless the firearm is a handgun and you are attending a hunter education course or firearms safety course, practicing the use of a firearm at a shooting range, performing in an organized competition of shooting, with a hunting license – or traveling to/from any of the previously listed activities, provided the weapon is unloaded and unconcealed)
you are in possession of and/or discharge a firearm while under the influence of drugs or alcohol
you carry concealed beyond your property without the proper license
You cannot have legally obtained a license if:
you are under 18 years old
you have been hospitalized at a mental hospital or drug/alcohol treatment facility within 5 years of applying for a license
you are a convicted felon
you have been convicted of carrying in a school zone or public gathering
you have a domestic violence or assault charge on your criminal record
you have been convicted of a crime related to drugs
you are going through felony proceedings
Consequences
The consequences for carrying a concealed handgun in the state of GA without a carry permit may add up to a fine of $1,000, five years of incarceration, or both. Convictions of more serious offenses including firearms (using it to threaten another, having it in possession during a robbery, etc.) face harsher penalties still. There are also harsh penalties for drug charges and DUI charges, which is why it's essential to have a good bail bond company on your team.
While Georgia fully enjoys its constitutional and state right to firearms, law enforcement takes abuse and misuse of that right severely. Upon arrest, call us as soon as you can. Double "O" Bonding services weapons violation bail in Jefferson, GA and many surrounding counties. We have plenty of experience with these charges and can tell you what to expect even as we post bail fast for your loved one. It is vital during such a time to collect legal advice and family moments, and our bail bonds agents are here to help you accomplish that through a quick phone call to 706-353-6467.